KELL-PRO®
KELLY-LINE ENTERPRISES, LLC
GOLF CART STRAP COVER
Neoprene Sleeves Provide Golf Bag Protection from the Golf Cart Strap
What is Kell-Pro®?
Kell-Pro® is the name of our patented neoprene sleeve designed to provide golf bag protection from the golf cart strap. The golf cart strap cover slides over the golf cart strap and protects the golf bag from friction damage.
The friction between the hard woven nylon strap and the golf bag causes physical damage to the bag during transport. The Kell-Pro® is a padded sleeve that is durable, easily attached and removed from the golf cart bag strap and is capable of protecting the golf bag from wear and tear due to friction between the strap and the golf bag.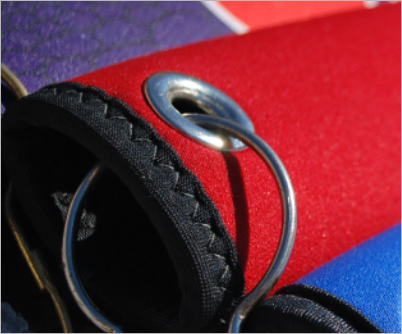 Construction
24″L X 2.5″W

3 mm neoprene rubber

Durable nylon cover

Available in multiple colors

Sublimation or screen print available

Stitched and glued seams

End caps to prevent wear

Hook and grommet included
.
Why use a Kell-Pro® Sleeve?
There is nothing more frustrating than buying a brand-new golf bag and finding scuff marks, scratches or tears in it after a round of golf from the cart strap. I've used towels and t-shirts only to find out they have fallen off several holes ago…so after many years of this aggravation I sought out for a solution and invented the Kell-Pro®.
Now it takes me seconds before every round to protect my expensive bag from friction damage and I don't need to worry about it falling off or how upset I'm going to be when I remove my bag from the golf cart.
So, you really don't care about the damage caused by the golf cart strap? Well, use the sleeve for personalization behind your bag by customizing one! You will surely stand out from the rest of the group and probably play better.
The Kell-Pro® sleeve also holds a dozen golf balls securely. I personally like marking all my Pro V1's and placing them in the sleeve for easy access while out on the course.
Whatever serves your purpose, the Kell-Pro® has you covered!

Protect
The golf cart strap is abrasive and can quickly cause damage to your bag. Even after one round our customers experienced wear on their bags.

Personalize
Customize your Kell-Pro® sleeves to personalize your golfing ensemble. It's also a great way to advertise your team or club.

Marketing
Customize your Kell-Pro® sleeves to promote your product, business or special interest at your next sponsored golf tournament.

Utility
Use a second Kell-Pro® sleeve to hold your practice golf balls. The sleeves securely hold 12 golf balls for easy access to your next ball.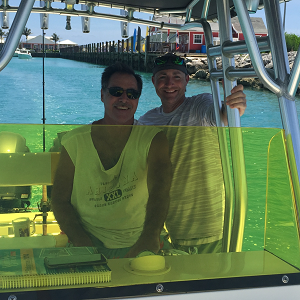 Our (Kell-Pro®) golf cart strap cover was designed, patented, and manufactured to solve a problem that has been troubling golfers since bags were first strapped to golf carts….friction damage to the golf bag caused by the golf cart strap.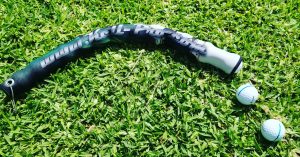 Our sleeves are manufactured in the USA and shipped to customers throughout the world.
We love hearing from our fans and are always up for suggestions or product improvements.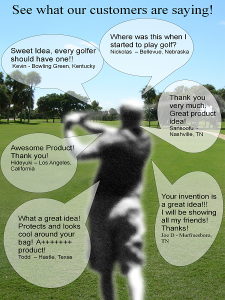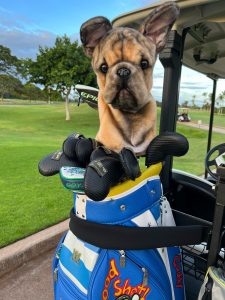 Wade from Hawaii – Black No Logo Sleeve